Från England & Afrika till Blueberry!
Hej! Jag heter Hanna Andrén Lang och gör just nu min praktik på Blueberry College & Universitet under min sista termin på Jönköping University. Jag har studerat utomlands i tre omgångar. Första gången var jag 14 år och åkte iväg med två kompisar på en språkresa till Isle of Wight på Englands södra kust. Jag hade aldrig varit i ett så trendigt land innan, jag såg alla klädbutiker som mitt egna lilla himmelrike. Det kändes som att de var första med allt! Kläderna, maten och musiken och min plånbok grät för jag ville ha alla Subways och billiga Primark skor jag kunde lägga mina händer på.
Det tog sedan 6 år innan jag återigen letade mig utanför de svenska gränserna för utbildning. Den här gången en bit längre än till Storbritannien, jag satte mig på ett plan för att, tillsammans med 14 andra svenskar, lära mig den tanzanska kulturen och språket swahili. Vi landade vid foten av Kilimanjaro och sedan fortsatte färden i en mini-buss upp till ett universitet uppe i Usambara-bergen.
Tanzania blev mitt största äventyr hittills. Jag bodde i den vackraste bergsnaturen någonsin, fick malaria, rakade av allt mitt långa hår och träffade de absolut mest fantastiska människorna där.
Halva min tid där studerade jag swahili på universitetet och min andra halva praktiserade jag och bodde på ett barnhem som också var en skola för sjuksköterskor. Barnen, tjejerna som studerade och jobbade där samt de missionärer som bodde i området blev mina och mina vänners närmaste och att lämna Irente Childrens Home krossade mitt hjärta. Jag har nog aldrig gråtit så mycket som jag gjorde i bilfärden ner för bergen, men även då väntade fler äventyr på vår sista tid! Det blev roadtrips på motorcyklar genom landet och sedan en fiskebåtstur med tillhörande delfiner över till Zanzibar.
Den här tiden (mars 2017) för ett år sen satt jag på ett tåg tillbaka till den lilla staden Enschede i Nederländerna från Amsterdam. Jag och mina kompisar hade haft vår sista tenta för den första perioden på fredagen innan och firade med en helg i huvudstaden. Där hade jag sett min vän (som studerar ballet i Amsterdam) ha sin examensuppvisning och sedan hade vi njutit av vårsolen i den vackra staden. Vi var tvungna att vara tillbaka i skolan dagen därpå för då började vår andra period och plugget var igång igen. Jag tog en Study Abroad termin, träffade andra studenter från hela världen, kollade fotboll, hängde på festivaler och cyklade runt i en liten stad vid nederländska och tyska gränsen. Vännerna som jag träffade där var det bästa med hela upplevelsen och vi har faktiskt hälsat på i varandras länder sedan vi kom hem, vi har bara Sydkorea och Schweiz kvar. Flygbiljetten till Schweiz bokades dock förra veckan så snart är det landet avbockat med. Med hjälp av de vänner jag träffade på min Study Abroad har jag lyckats besöka: Skottland, Estland, Ungern, Frankrike, Tjeckien, Bryssel, Wien, England och Slovakien under 2016 på en liten budget. Vänner gör ju livet lättare.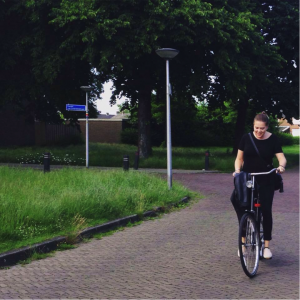 Jag känner kanske inte riktigt att jag är klar än. Jag hade velat åka en gång till, eller två. Lär ju bli tre i slutändan. Minst. Den här gången funderar jag på att göra något som jag velat göra efter att jag upptäckte Isle of Wight vid 14 års ålder. Jag vill tillbaka till Storbritannien, jag vill låtsas vara med i Harry Potter och Morden i Midsomer. Tillbaka till landet som startar trenderna, som ligger i framkant i allt medie, kulturellt och trend-relaterat. Frågan är ju bara, vart i Storbritannien? Kanske Dublin? Brighton? Eller varför inte trendernas huvudstad, London?
//Hanna