En dag i november. Byta flyg i Bangkok. Anlända i Luang Prabang. Oroas över ens engelska. Oroas över ens pedagogiska kapacitet. Oroas över förväntningar. Lugnas av Will, en "intern" åt GVI-teamledare Tricia för projektet med munkar i Laos. "Need to be a professional English teacher? Haha. No?"
Jag kom dit en dag tidigare för att inte uppleva så mycket stress och när jag gör saker för första gången, volontärresa i detta fall, vill jag alltid vara i tid med god marginal. Will och jag hängde lite, tog en underbart god lunch på Utopia och jetlagen var ett minne blott. Somnade mysigt in liggandes med floden …. som utsikt.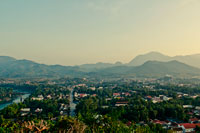 Att varva promenader utmed Mekongfloden med lektioner, filosofiska middagar och nyfikna utflykter måste vara det bästa sättet man kan resa på. Jag kommer aldrig att kunna gå tillbaka att resa "som vanligt". Känner dock att just detta projekt kändes som "volontärresa-light". Vi volontärer ode mycket bättre än vad jag trodde och hade mycket mer fritid än vad jag trodde. Kan ju vara det man eftersöker i och för sig.
Min inställning var att detta är "min" resa vilket resulterade i ett extremt öppet sinne och mycket kontakt med lokalbefolkning vilket var ovärderligt. Fick tips om frukostställen, lokala varor att ta hem till släkt och vänner (lagom till jul) som inte var turistiga, inbjudan att kolla på landskamp mellan Laos och Thailand på en 12tums teve av en elev som ville ha lite sällskap.
Volontärarbetet
Själva volontärprojektet i sig tycker jag var välorganiserat och smidigt upplagt. Söndagsmöten och schema med ens lektioner, frågor löstes enkelt genom att fråga volontärer som varit där ett par veckor eller ett par månader redan. Eftersom man kan hoppa på projektet varannan vecka och man kan stanna flera veckor om man vill blir det naturligt att volontärernas tid i Laos överlappas. Jag träffade mycket folk från hela världen, mest från UK och Australien, men en tjej från USA och tre tjejer från Tyskland. Det var en helt fantastisk känsla att komma in i gruppen så fort och samma med de klasserna man var ansvarig för vissa timmar. Eleverna var öppna och var minst lika barnsliga och pubertala som sina svenska motsvarigheter. En överraskning faktiskt eftersom vi hade blivit ordentligt informerade om att de laotiska eleverna är extremt blyga och har en oerhörd respekt för lärarna. Ja, det hade de, men jag har arbetat som högstadievikare en tid och tycker inte skillnaden är så värst stor mellan kontinenterna, förutom kulturella detaljer såsom hur de bor, vilken religion de tillhör och vilken framtid de ser framför sig.
Kulturskillnader
Som samhällsstudie var min tid oerhört givande. När jag under min sista undervisningsdag frågade dem hur de trodde att deras liv skulle se ut om 15 år skrev de flesta att de hoppas ha "ett hus, en fru, några barn, bra jobb". Visst kan det ha berott på brister i ordförråd, men jag tror att kraven är lägre generellt. I alla fall krav vi ser som typiskt västerländska. Till exempel frågade jag en elev en gång om ungefär 30kr för frukost var dyrt. Han svarade med "to me, it's expensive" varpå han förklarade att hans frukost+lunch+middag kostade ungefär 5kr och bestod av vatten, grönsaker och salt. Tre gånger om dagen. Varje dag. Det är såna där u-landsproblem man hör och läser om och viftar bort rätt fort som klyschor, men att få höra det ansikte mot ansikte från en av dina favoritelever som jobbar hårdast och är mest aktiv och nyfiken under lektionerna var känslomässigt intensivt. Speciellt när jag sekunden innan hade stått vid turistcafét och suktat efter baguetterna, croissanterna, teet, juicen, sylten, smöret, rika fruktsalladen och gratis wi-fi.
Fruktansvärt nöjd
Sammanfattningsvis är jag fruktansvärt nöjd med mitt deltagande i projektet. Jag var endast där under två veckor (som följdes upp av en tredje "äventyrs"-vecka till bl.a. Vang Vieng) och kände att det kanske var lite kort, dock så behöver mitt psyke mycket variation och då passade detta bra. De två veckorna var intensiva och oförglömliga. Det är en fantastisk resa för någon som är intresserad av att börja resa volontärt. Jag reste själv för första gången och kände mig aldrig osäker eller otrygg. Det märktes att logistiken var van vid att ta emot västerländska volontärer. Mycket att se, mycket att lära ut, mycket att lära in, mycket att fråga, mycket att lyssna på, mycket att fota, mycket att försjunkas i.
/Martin Skarbäck