I tisdags var jag på en snabbvisit i London och hann med att besöka tre av våra skolor. Gå gärna in på vår Facebook-sida för att se fler bilder.
---
Regents College
I lummiga Regents Park, endast 5 minuter från tunnelbanestationen vid Baker Street i centrala London hittar vi Regents College. De håller till i en pampig byggnad bland vackra grönområden och många av studenterna väljer att ta med sig sina böcker för att studera ute i det gröna.
Skolan har väldigt fina lektionssalar och en stor cafeteria med alternativ för alla smaklökar. De har även en restaurang på skolområdet, ett ljudisolerat bibliotek att studera i och ett gym studenterna kan använda. Skolan erbjuder även olika träningspass som exempelvis pilates och yoga. Skolans campusboende ligger i direkt anslutning till lektionssalarna, perfekt för dem som gillar att ta lite sovmorgon. ?
Le Cordon Bleu
Alldeles intill Bloomsbury Square hittar vi den berömda restaurangskolan Le Cordon Bleu i nyöppnade, fräscha lokaler. Här ser man lätt vilka som är studenter och inte – i kockuniform och kockmössa springer studenterna mellan de olika lokalerna i byggnaden.
Här är det uppenbart att det är mycket praktiska delar i utbildningen. Det finns exempelvis olika kök för olika slags matlagning, där varje student får sin egen plats för att laga sin maträtt. Skolan har även lokaler där en kock demonstrerar ett recept inför en klass. Studenterna tar noteringar för att sedan gå in i köket och börja jobba. Skolan har även ett café som drivs av tidigare studenter och är öppet för allmänheten.
London School of Business & Finance
London School of Business & Finance (LSBF) är ett city campus i centrala London, med närhet till shopping, mysiga caféer, barer och restauranger. De flesta lektionerna hålls i en flervåningsbyggnad på Carey Street. Du tar dig exempelvis till Picadilly Circus på 20 minuters promenad därifrån.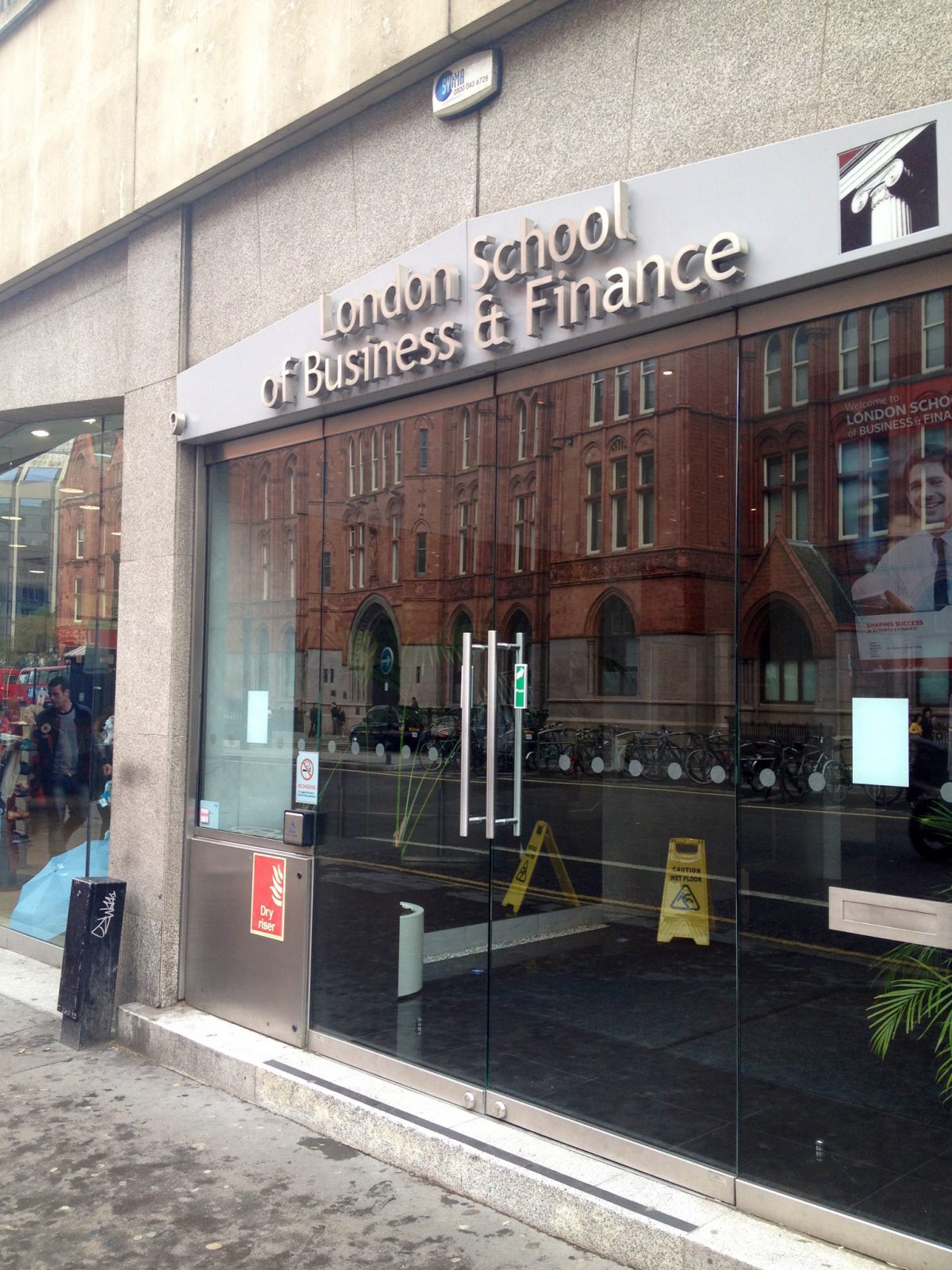 Skolan har student lounger på varje våning och bibliotek där du kan studera i lugn och ro. Vissa studenter väljer också att gå till London Library, som ligger på gångavstånd till skolan. LSBF erbjuder boende i olika former med närhet till skolbyggnaden och hjälper internationella studenter att hitta ett boende som passar just dem.
Det var jätteroligt att få chansen att besöka London och några av våra skolor där. London är en underbar stad och man blir verkligen inspirerad att studera i en sådan världsmetropol!
Mejla gärna mig om du har frågor eller vill veta mer om någon av skolorna på stina@blueberry.nu