I dag lämnar vi plats till Erika som gästbloggar hos oss. Erika har studerat Fashion Design på West London College – något som hon själv beskriver som det roligaste hon har gjort.
---
En dröm har alltid varit att bo i London, så därför tvekade jag inte när jag fick chansen att studera fashion design på West London College. Min första tid i London bodde jag på ett hostel centralt beläget nära Hyde Park och inte långt ifrån WLC på Oxford Street. Efter en månad flyttade jag in i en lägenhet tillsammans med två andra tjejer. Vilket gav fler friheter och enligt mig en chans att få en äkta upplevelse som Londonbo.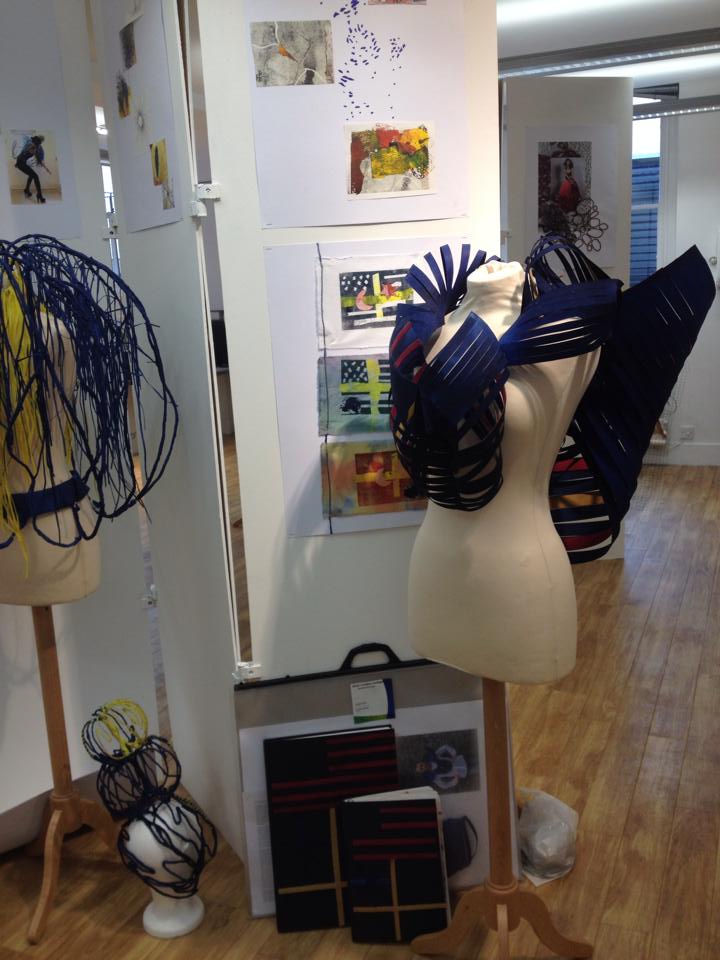 Mitt år på WLC är utan tvekan det roligaste som jag har gjort. Att få vara kreativ och studera det man älskar, mode, var lite utav en dröm som besannades. Efter mitt år har jag lärt mig att utveckla en idé till en färdig produkt, som i varje projekt innebar någonting man som person kunde bära.  Det fanns aldrig några gränser, inget man tänkte var fel. Vi blev uppmuntrade till att experimentera så mycket vi kunde för att få fram bästa resultat, vi hade allt vi behövde för att kunna arbeta rent kreativt.
Vi blev även uppmuntrade att se oss omkring i London efter inspiration. Alltifrån museum till områden, marknader och affärer till människor som stack ut rent stilmässigt. Vart man än gick kunde man hitta sin inspiration, det är det bästa med London. Det är en så pass stor stad så man är aldrig begränsad. Att man även hade lärare som brann för det de arbetade med, påverkade även att man själv arbetade hårt för att uppnå sitt bästa i varje projekt. Lärare som stöttar, ger tips och lyssnar är det man kan förvänta sig på WLC.
Slutprojektet
Det absolut roligaste projektet var vårt slutprojekt. Det var då man fick använda sig av allt man hade lärt sig från tidigare projekt och man fick själv bestämma vad projektet skulle handla om. Jag valde "Identitet" där jag fokuserade på utvalda länder och deras flaggor för att forska om hur det blir en stark identitet för personer.  Jag fick arbeta med ett ämne som intresserar mig och kunde hitta mycket information och inspiration runt om i London. Man fick mer ansvar i slutprojektet vilket jag själv gillar. Allting avslutas med en utställning och modevisning där man visar upp gamla verk och där man får chansen att visa det man har arbetat med under året. Ett perfekt avslut.
På min fritid så var jag mycket på museum, umgicks med kompisar, var ute mycket på helgerna och dansade, tränade på Friskis och Svettis som även finns i London. Det fanns alltid någonting att göra om man ville, i London behöver man aldrig ha tråkigt. Det som jag kan sakna är att man träffade så mycket människor från så många bakgrunder och nationaliteter, alla var alltid så öppna och välkommande.
Om ni funderar på att studera på West London College, ta chansen för det är värt det. Ni kommer inte ångra er!
/Erika Eklund
Finansieringshjälp: West London College har nu ett fantastiskt erbjudande där University of the Arts (Central Saint Martins, London College of Fashion, Wimbledon College of Arts med flera) finansierar en del av din utbildning i Fashion. För dig som ansöker till Foundation Diploma in Fashion Design och är mellan 19-24 år finns mycket goda möjligheter till att få bidrag på din terminsavgift på 2500-6920 GBP.
Det betyder att du kan gå en diplomutbildning helt gratis om du uppfyller alla krav – eller i vilket fall till kraftigt reducerat pris. Vad väntar du på? Kontakta Maria på maria@blueberry.nu om du vill veta mer!