"Jag tycker det är så häftigt hur kroppen är ihopsatt och hur allt är sammanlänkat!"
TAFE Queensland erbjuder yrkesinriktade och praktiska diplomutbildningar på 6-24 månader. Här kan du exempelvis välja att studera en ettårig diplomutbildning inom Diploma of Fitness/Sports Development och bli licenserad personlig tränare. Förutom att du får ett PT-certifikat och direkt kan börja jobba i Fitness-branschen lär du dig också driva ditt eget företag. Detta är något som Blueberrystudenten Jenny planerar att ta tillvara på efter studierna, då hon vill starta sitt eget företag som tränings- och hälsocoach. Läs mer om TAFE Queensland och om Jennys studietid nedan.
Hej Jenny! Du studerar på TAFE Queensland, hur kommer det sig?
Jag hade egentligen tänkt att jag ville jobba utomlands framförallt för att få lite utlandserfarenhet från början men när jag blev mer och mer sugen på att lära mig mer om träning och hälsa så föll det sig naturligt att kombinera utlands suget med ett Diploma of Sport Development istället.
Vad läser du för kurser? Har du någon favorit?
Just nu läser vi anatomi, Functional movement, Healthy eating, olika former av träningsprogrammering, Motivational psychology och hur man tränar tonåringar. Sen har vi fått egna klienter att jobba med vilket ger en väldigt hands on känsla och man kan applicera allt man lär sig direkt på klienterna. En hel del business management ingår också i kursen. Min favorit är nog egentligen anatomi och Functional movement just nu, jag tycker det är så häftigt hur kroppen är ihopsatt och hur allt är sammanlänkat med vartannat. Att en spänd nacke kan ha ett ursprung i en fel belastad fot till exempel.
Hur skulle du beskriva skolan?
Skolan är liten och mysig. Jag hade önskat mig ett lite större gym och lite mer gräsyta utomhus att träna på. Annars är det en gemytlig skola som inbjuder till plugghäng. Vi har väldigt duktiga och dedikerade lärare, vilket är det viktigaste tycker jag.
Hur är Sunshine Coast att bo i? Hur bor du och hur gjorde du för att hitta boende?
Sunshine Coast är jättehärligt! Här är väldigt rent och människorna väldigt trevliga! Stränderna är superfina och här finns förvånansvärt många vegan-restauranger vilken jag gillar. Jag började med att fixa ett TripAdvisor boende för de första tre veckorna, så kunde jag åka och titta på mer permanent boende när jag var på plats. De senaste månaderna har jag bott i ett kollektiv med 10 andra personer i Alex Heads. Nu har jag precis flyttat till ett mindre liknande boende. Båda dessa har jag hittat via flatmates.com.au vilket jag verkligen kan rekommendera.

Är det stor skillnad på att studera i Australien jämfört med Sverige?
Nja, jag tycker inte det är nån skillnad förutom språket förstås. En vanlig skoldag för mig brukar börja med att jag tränar i skolgymmet före första lektionen, sen har vi oftast teori med inslag av praktiskt under hela dagen. Under lunchen passar vi på att sitta i solen och njuta lite. Vissa dagar tränar jag min klient före eller efter skolan. De flesta skoldagarna börjar 09.00 och slutar senast 16.00.
Vad gör du på fritiden?
Tränar, lagar mat och pluggar på vardagarna. På helgerna åker vi ofta ut och vandrar eller klättrar i nåt av bergen här. Några platser som absolut är ett måste att besöka i närheten är Glasshouse Mountains såklart. Noosa, Eumundi Markets, Nurcha café är också måsten, Maleny falls. Det finns så mycket att se här, omöjligt att lista allt.
Vad är ditt bästa minne hittills från din vistelse?
Men det skulle nog vara när mina vänner från Sverige kom och hälsade på mig och vi tog en roadtrip till Sydney med stopp på flera härliga ställen på vägen. Bland annat Byron Bay,
Newcastle och Blue Mountains såg vi. Det var en härlig resa!
Hur kom det sig att du vände dig till Blueberry när du skulle studera utomlands?
Jag googlade lite på utbildningen och insåg att jag inte alls hade koll på allt som behövde göras inför avresan, så det var så smidigt att Blueberry kunde hjälpa mig med allt det praktiska.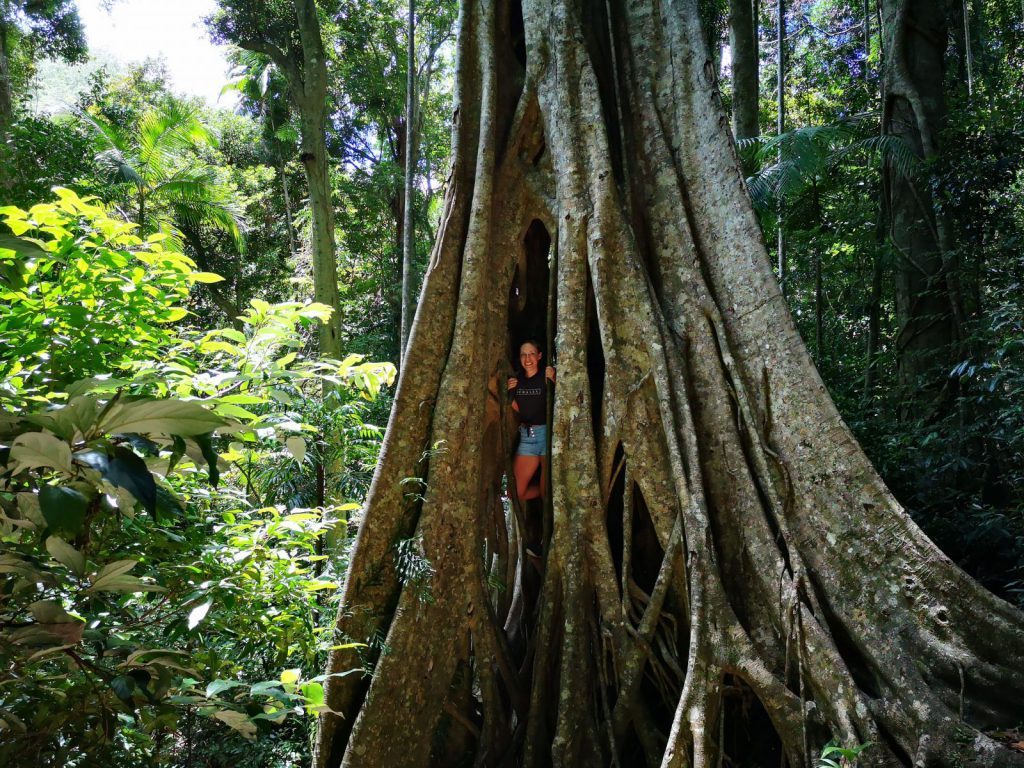 Vad har du för planer efter dina studier?
Jag har inte bestämt mig än. Jag ska i varje fall flytta hem till Sverige igen och börjar nog med att återgå till mitt gamla jobb och sen kanske vid sidan av starta mitt eget företag som tränings- och hälsocoach. Vi får se vad som händer!
Har du några tips till andra som är sugna på att studera utomlands?
Ta hjälp av tex Blueberry för att få ordning på alla papper, fixa ett boende för de första veckorna bara och leta sen när du är på plats och har fått en idé av hur det ser ut här.