Santa Barbara City College (SBCC)
SBCC har under flera år i rad blivit utsett till number 1 college i USA. Här kan du välja ur ett brett kursutbud och läsa fristående kurser under 1-2 terminer eller ta en Associates Degree (2 år). Därefter finns möjlighet att göra transfer till ett universitet och ta en Bachelor Degree. På SBCC får du uppleva äkta amerikanskt collegeliv och studera med stranden och havet som närmsta granne. Du kan även gå med i någon av collegets många aktivitetsklubbar. Att Santa Barbara City College är en av våra mest populära skolor är inte svårt att förstå tycker vi på Blueberry men är du inte övertygad ännu, läs vidare…
1. Närhet till strand och havet
Santa Barbara City College (SBCC) ligger precis vid vattnet, vilket möjliggör för strandhäng på lunchen eller efter skolan. Dessutom kan du plugga på rasten med utsikt som den ovan. Hur fantastiskt är inte det?
2. Alldeles lagom
Santa Barbara är som vi skulle säga i landet lagom – är alldeles lagom. Staden är inte för stor eller för liten, du kan enkelt ta dig runt på cykel och ta dig från stranden, till föreläsningen och via mataffären hem. Med en cykel i Santa Barbara har du all frihet du kan behöva för att göra vad du vill! Dessutom är det både miljövänligt och ekonomiskt – perfekt!
3. Bra utbud av restauranger
Staden har ett brett utbud av riktigt trevliga restauranger och du kan hitta din favorit oavsett om det är en stor hamburgare med pommes, fisk och skaldjursrätter direkt från havet eller om du älskar veganskarätter och allt som har med växter att göra. Santa Barbara har något för dig!
4. Shoppingmöjligheter
Du finner också en hel del bra shopping på State Street, som är stadens shoppingstråk. Även Yoghurtland hittar du här och det är ett bra stopp på vägen för att svalka dig och fylla på energin under shoppingturen. Dessutom finns ett flertal bra outlets i närheten av Santa Barbara, exempelvis Camarillo Premium Outlets i Camarillo, ca 45 minuters bilfärd från Santa Barbara.
Blir du trött på shopping kan du ta spårvagnen ner till stranden och där hittar du…
5. Strandpromenaden!
Strandpromenaden som kantas av palmer och en lång pir dit du kan gå och besöka en skaldjursrestaurang samtidigt som du njuter av utsikten mot Santa Barbara. Jag vet inte vad mer jag ska säga om just strandpromenaden, för jag tror att den talar för sig själv!
6. Studenterna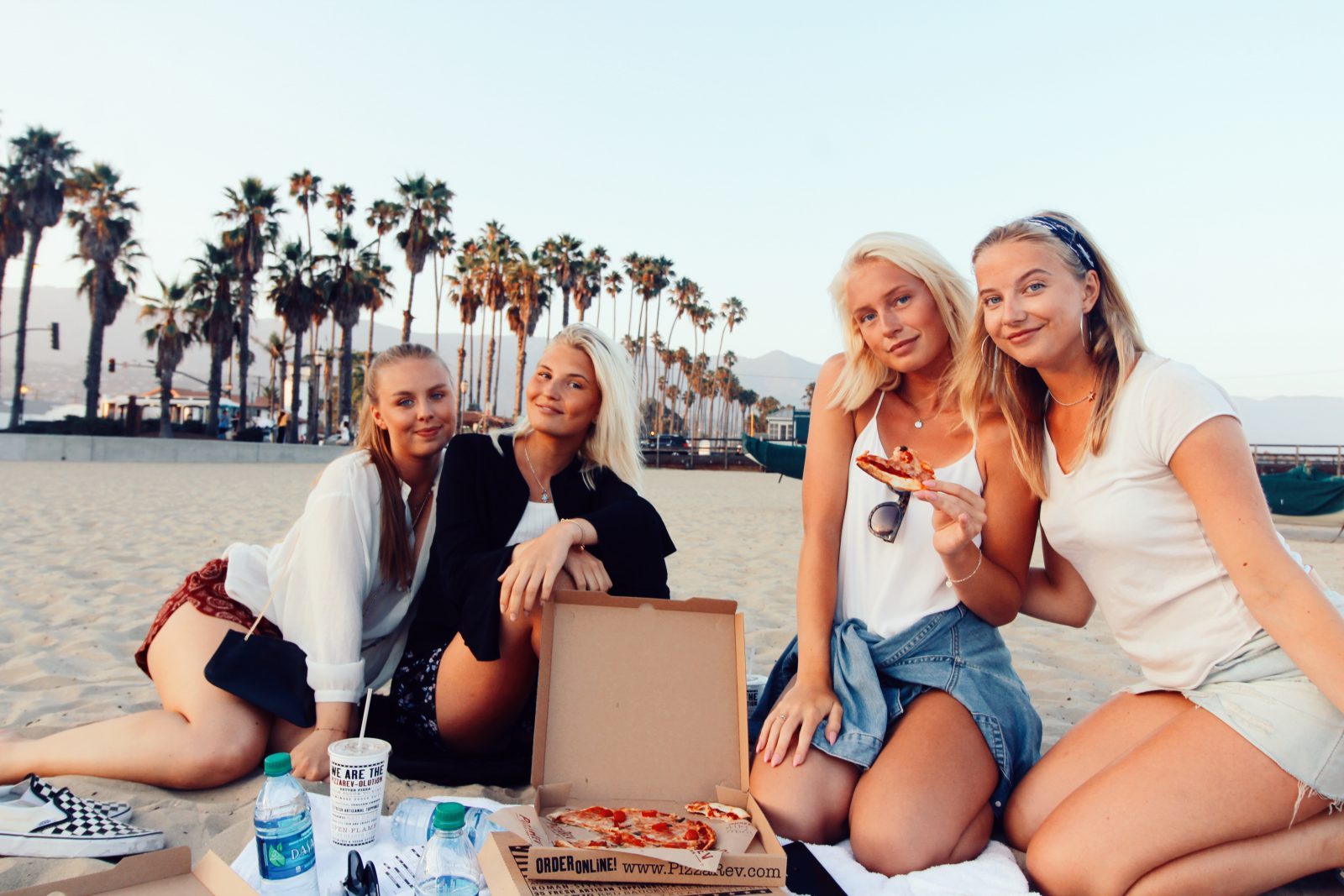 Santa Barbara är en studentstad och du träffar studenter överallt kring skolan men vill du uppleva ännu mer collegeliv bör du absolut besöka Isla Vista som ligger cirka 20 minuter bort. Särskilt under Halloween är det "the place to be", då studenter från hela Kalifornien åker hit för att uppleva den festliga stämningen.
7. Road trip
Du kan åka på Road trip längs berömda Highway 1 och även besöka LA närhelst du har tid, då staden endast ligger två timmar bort med bil. Annars kan du besöka platser som Malibu, Long Beach, San Diego, Ventura, Big Sur, Monterey, Santa Cruz, San Jose och San Francisco bara genom att åka längs Highway 1.
8. Sportmöjligheter
Om du gillar sport finns fantastiska sportmöjligheter på SBCC, oavsett om du gillar att spela fotboll, tennis eller surfa så finns det något för dig. Tycker du dock inte om att utöva sport kan du ta del av många sportevenemang och heja på från läktaren och ta del av den fantastiska atmosfären.
9. Naturen
Även på fritiden kan du vara hurtig och exempelvis gå på hike och njuta av en strålande utsikt över staden. Det finns många ställen i och omkring Santa Barbara som du kan utforska med hjälp av ett par kängor och med kameran i handen. Till exempel kan du besöka Cold Spring East Fork, The Coastal Vista Trail, Inspiration Point och Douglas Family Preserve.
10. Studera fristående kurser, läs ett certifikat eller ta en Associates Degree
På SBCC finns möjlighet att studera ett certifikat inom ett visst område under ett års tid. Fördelen med att välja att läsa ett certifikat är att du är garanterad kurser inom det område du väljer. Ämnesområden man kan välja att studera är Graphic Design, Photography, Marketing, Theatre Arts eller Film & Television Production.